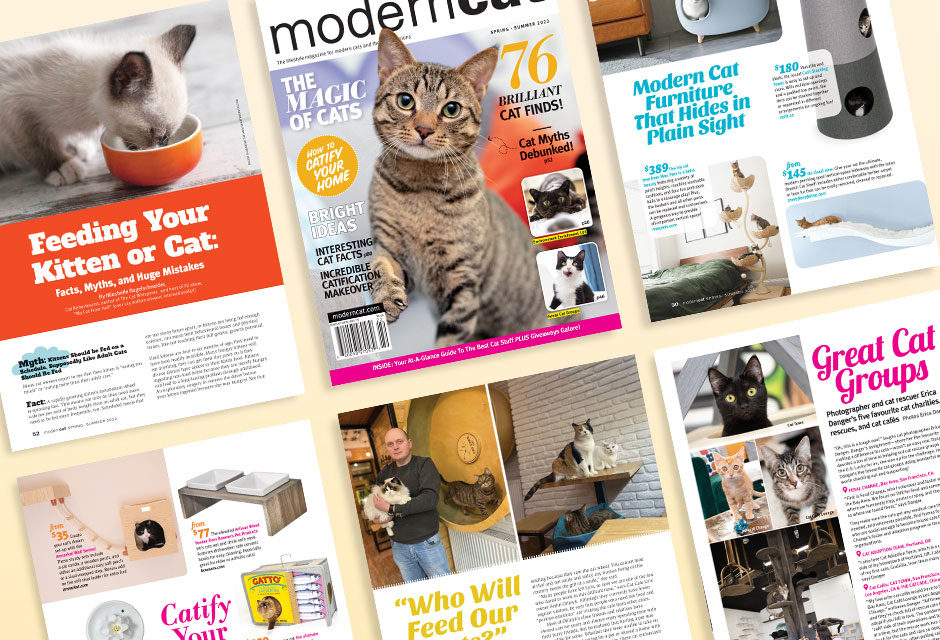 Sneak Peek: Modern Cat's Spring/Summer 2022 Issue is Here!
We are delighted to share the new Spring/Summer issue of Modern Cat with you! It was a labour of love and will hopefully spark joy in these troubled times.

Photos Nikii & Jessica Gerson-Neeves
From the hilarious (the cats that took a Vitamix hostage, their humans captivating the internet with updates on the blender box stand-off saga) to the heart-rending—the owners of a cat café in Lviv, Ukraine, holding fast despite the advance of Russian forces.

Cat Cafe in Ukraine / Photo Cat Cafe Liev
We've filled the pages with stories of cat lovers finding purpose, entertainment, and solace in their relationships with their feline friends.

Cat Litter Box by Makesure Pet
We also share the best, modern cat design, bust cat myths (page 52 & page 80), and publish more reader-authored Tiny Cat Stories—read the latest crop and find out how to get yours published on page 76! We explore how cats see the world, provide how-to's for easy, fun DIYs, share environment enrichment ideas galore (a catio, anyone?), and so much more.
You'll find gorgeous cat furniture, cat groups worth supporting, the best cat toys, and wellness advice, like how to spot arthritis in cats (it's subtler than you may think), and what to do about it.
Cat Cafe Lounge / Photo Erica Danger
We hope you pounce on this issue and that it brightens your day and makes you a better cat parent. Thank you for being a part of our amazing community of cat lovers!
With love,
Connie Wilson, Founder, Publisher, and Editor-in-Chief
"The vital function that pets fulfill in this world hasn't been fully recognized. They keep millions of people sane."—Eckhart Tolle
Join the newsletter and never miss out on cat content again!
By clicking the arrow, you agree to our web Terms of Use and Privacy & Cookie Policy. Easy unsubscribe links are provided in every email.
Giveaway